Everyone knows that Mother's Day is all about brunch!  Oh, yea, and showing your mom you really appreciate everything she's done for you, of course!
Sometimes all Mom needs is YOU!  No fancy gifts. No fancy restaurants, just quality time with you.  So step away from the mall and head to the grocery store!  We've found some simple but elegant Mother's Day brunch recipes  that'll melt her heart.
For a healthier start to her day, we found these delicious Strawberry protein pancakes with yogurt filing!  They're not just healthy, but refreshingly satisfying too. These pancake roll-ups are a mix between a crepe and a pancake. The sweetness of the strawberries make these pancake roll-ups taste like dessert! The best part is, these pancakes are packed with protein and healthy whole grains (no flour!)… So, although they are sweet enough to be dessert, they are healthy enough to have for breakfast!!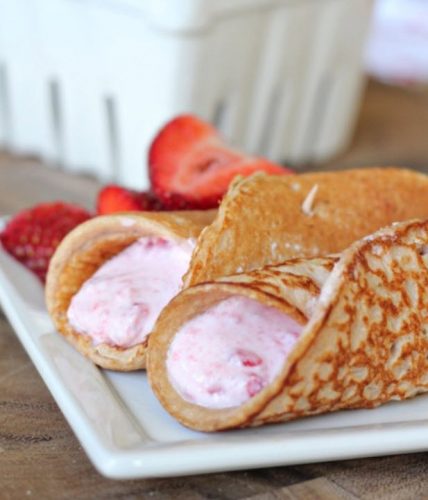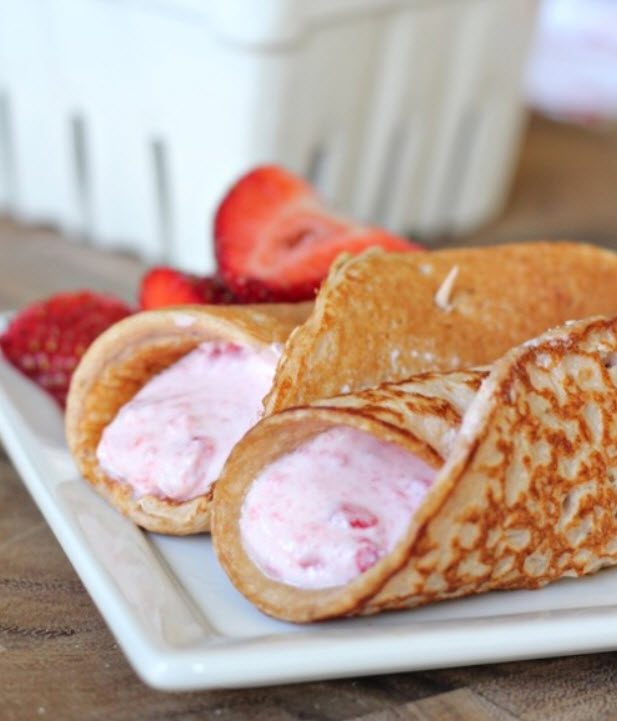 You definitely can't go wrong with the traditional pancakes and coffee.  I mean, really, who doesn't love pancakes? So, if you want to really surprise her, how about a breakfast gift basket? Packed with everything you'll need to make her an absolutely delicious Mother's Day breakfast….in bed!  She'll get to indulge in mouth watering pancakes, savory biscotti while dipping in her Starbucks coffee. After all, isn't that what she deserves?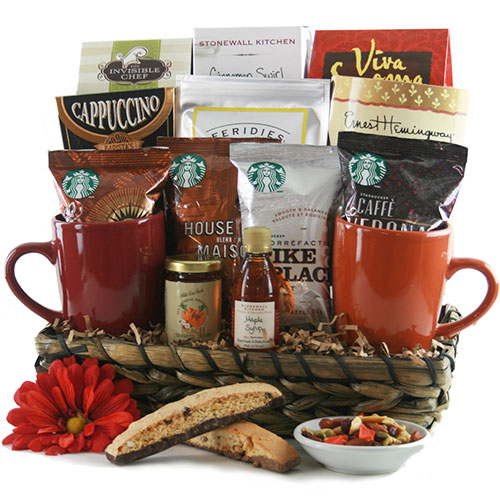 Crepes are so versatile. You can roll em. Stuff em and even slather them.  And because everything is better with Nutella – these Nutella stuffed crepes are the bomb! Rich, creamy, delicious and best of all, easy!  Mom is going to go bonkers over these heavenly delights. Whether it's brunch, lunch, dinner or even a snack, she'll be in euphoria!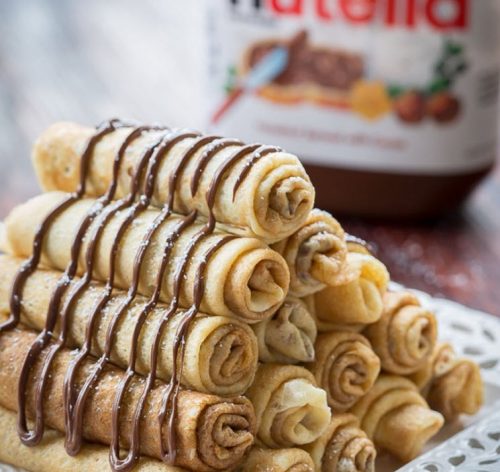 And now to really get the party started, here are some refreshing Mother's Day Brunch Drink Recipes!
Pisco-Grapefruit Brunch Pitcher 
Pisco is especially delicious in a light cocktail like this easy brunch drink inspired by extra-flavorful Ruby Red and Oro Blanco grapefruits. To double up on grapefruit flavor, you'll use both the juice and the zest, steeped in an easy simple syrup. Batching the drink in advance means you won't have to fuss at the last minute (and can concentrate on waffle-making.) It's light and zesty – perfect for Mom!
Peach Thyme Bellini
We can't think of a more refreshing celebratory drink for Mom! Wonderfully light, refreshing, and bubbly peach bellinis – and all you need is 3 ingredients and 5 minutes! So simple and easy!   A traditional Bellini is a mixture of Prosecco (Italian sparkling wine) and white peaches.  They originally added raspberry or cherry juice to give it a pink glow.  However, it's been modified over the years and people are now using champagne instead of Prosecco.  Either way you pour it, it'll still make Mom smile!