How can you effectively address customer churn rate while demonstrating your genuine appreciation for their business? Beyond offering an outstanding product and top-notch customer service, the solution lies in the thoughtful gesture of gifts and corporate gift baskets. If you're struggling to come up with gift ideas, here are some foolproof client appreciation gifts that will help you stay on your clients' radar throughout the entire year, not just during the holiday season.
1. Terrarium or succulent garden
2. Gourmet food basket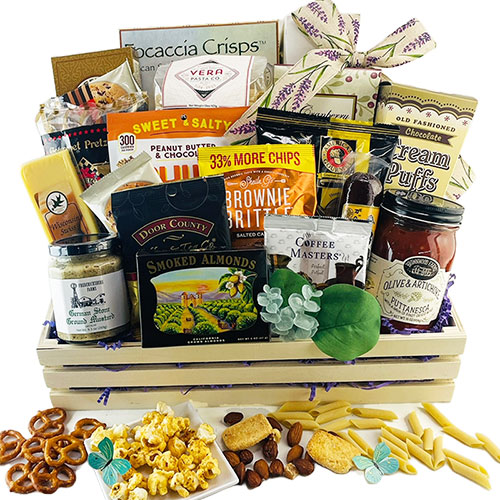 Don't want to send another basket weighed down with cheese logs and vacuum-sealed sausages? Design It Yourself Gift Baskets custom gift baskets are the answer. It's simple. We work with your budget. Your theme and turn around and create a memorable, unique gift basket that your clients will LOVE.
3. A water bottle they won't throw away
Let's face it, we all have more leaky water bottles and superfluous fruit infusers than we know what to do with. But there's nothing better than receiving a water bottle you'll actually use. Consider a high-quality S'well or Camelbak option with your company's branding.
4. Restaurant gift cards
Research the hottest new restaurants in your customer's area, or ask for hotspots they'd like to try, and get them a gift card. It allows them to unwind over a nice meal — and your name is sure to come up before dessert.
5. Bakery delivery
Is there anything better than an unexpected office delivery of fresh-baked goodies? That was a rhetorical question. Send over local doughnuts or pastries the whole team will enjoy.
6. Catered Lunch
Everyone loves a good burrito or sandwich bar. This doesn't have to be an extravagant catered lunch — just make sure to throw in some cookies for good measure.
Company Gift Best Practices
Not sure where to start? These best practices will help you select the perfect gift every time:
Personalized gifts
Don't order 30 wine of the month subscriptions and send them to all your clients — even the two that don't drink and the one who's told you several times how much they like beer. Consider your champion's likes and hobbies, and source a gift that will be meaningful to them.
Don't overdo it
If your client pays $200 a year for your product/service and you send them a $300 gourmet gift basket — that's overdoing it. Keep gifts in proportion to how much a client's company spends with you to ensure no one feels uncomfortable about the gift.
Think outside the holidays
Don't relegate gifts to the holiday season. Send tokens of appreciation throughout the year. By sending presents outside of December, you'll avoid disappearing into a crowd of break room gift baskets sitting sadly in their cellophane. Plus, corporate gifts are meant to show your clients you care about their business all 12 months, not just when they're up for annual review.
Don't wait for a special occasion or holiday to remind your clients how much their business means to you. Send an "off-season" gift today, and you might even get a referral or two from your efforts.