We here at Design it Yourself  believe that corporate gifting is essential to staying front and center with your customers. Not to mention it's a great way of keeping a great relationship strong.  Today's world is all about fast, easy and most of all, custom. And when it comes to your customers you want your money to be well spent and your gift to be well remembered.   We feel that one of the best ways to ensure your gifts will make an impression and be remembered is to customize with products you know they love. And most important, adding your company logo throughout the basket.  So what makes a great impressionable gift? A custom gift basket.

Custom corporate gifts created to meet your specifications & budget
This can include mixing and matching themes – Wine and Chocolate for example – or including products not usually available in our inventory. Please keep in mind that while we carry an extensive product inventory, if your vision is such that we need to look beyond our standard product lines, we've got you covered. Corporate gifts and gift baskets have virtually no limitations!
Gifts personalized with your company's own promotional items
If you have your own promotional items you'd like for us to add to your gift basket such as coffee mugs, calendars, mouse pads, t-shirts, and pens; no problem.  We'll include these items and create a unique, one-of-a-kind custom basket that'll undoubtedly turn heads!  Infact, we'll even store them in our warehouse, FREE of charge.
Custom imprinting
What if you don't have your own branded promotional items? Don't fret, we can arrange to custom imprint anything!  Fire-branded wooden gift boxes, silk screen imprinting, custom embroidery, and much more!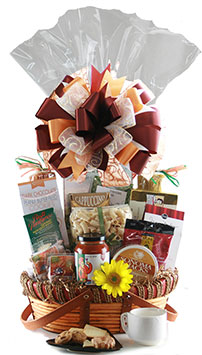 In a nut shell, customization and imagination are what sets our special, unique gifts apart from the off-the-shelf, everyday gifts.  No matter what type of gift you're looking for  – "WOW!" perspective clients, keeping in touch with current clients or perhaps you have a corporate retreat, our corporate gift specialists are experts at creating absolutely stunning gift baskets that are tailored specifically to your needs and budget. Because that's what we do. We ARE custom gift baskets, and our gifts are as diverse as your imagination!  We go the extra mile, because you're worth it.