This Mother's Day,  why not try something a little different?  Get the whole family together for some fun, laughter, and games.
Every year you work yourself into a frenzy trying to out-do the year before.  Hoping to make an even bigger impression on Mom. But when it all comes down to it, all she wants is to spend time with her family. And you can't put a price tag on that!  We've found some fun, creative, outside the box plans for Mom this year.
A Family Picnic
This year, rather than stressing and planning and finding a place that has reservations available,  why not try a picnic in the park, with details that couldn't be simpler.  Our Picnic in the Park Wine Gift Basket is the ideal gift for that special sunny day. With your choice of two bottles of wine,  cheese, crackers, and other delicious snacks, it's simply the perfect Mother's Day gift!
Watch Movies
Have a movie marathon in the comfort of your own home! Since it's all about her, have her pick out some of her favorite movies, pop some popcorn, grab some  candies, snacks and soda. Oh, and don't forget the remote and a blanket! You can even pull out old photos when you're done and reminisce.
Have a Garden Party
Forget the expensive flowers for Mom this year, instead why not spend time with her in her garden? Plan a girls trip to the local nursery, pick out some of her favorite flowers and/or herbs to plant and have some fun and get dirty!   Our Garden Party Gardening Gift Baskets has just what she needs to get her gardening blooming.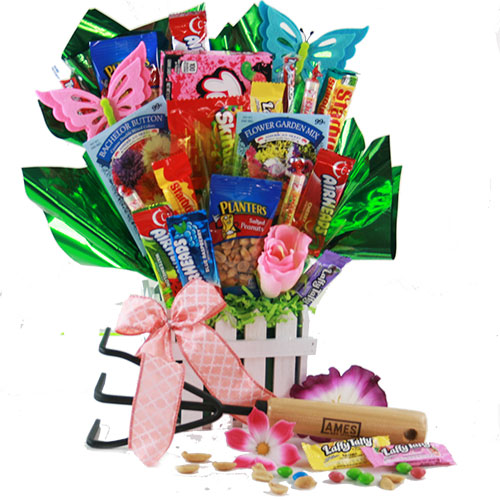 Bake Cookies
Remember when she would spend hours in  the kitchen baking for you, and you got to lick the bowl and spoon? This time it's her turn to lick the bowl! Pull out some delicious cookie and brownie recipes and have a bake day!