Don't let winter give you the blues. We all know to well how blistery cold and bitter the winter months can be. It not only takes a toll on your mental and emotional state, but it really wreaks havoc on your skin. That said, help rejuvenate her spirits and her skin with some of these amazing spa gifts.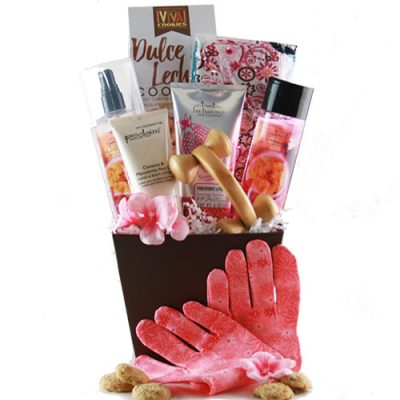 Simply Spa Gift Basket
A truly divine inspiration of pomegranate and passion fruit scents fill this quaint tote. One of the worst parts about winter weather is the damage it puts on your hands. Start the healing with a relaxing shower.  Re-hydrate with the moisturizing body spray and body lotion. Then, you're ready to treat your hands right by indulging them in our coconut and macadamia nut hand oil and lotion. Seal the deal with these adorable hand moisturizing gloves while indulging in a sweet treat of dulce de leche cookies. Remember, Mother's Day is around the corner; what better gift for Mom than  a spa gift basket.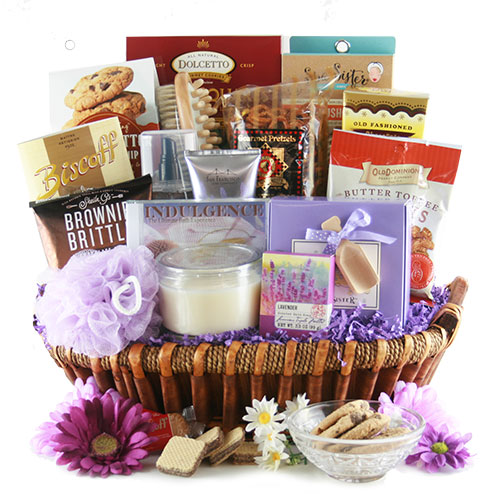 Ultimate Spa Gift Basket
For the mack daddy cure-all of this outstanding spa basket will help ease the aches and pains that come with the cold weather, stress and anything else life brings. Gifts for women is a tough one. However, if she's all about having her "me-time" and relaxation, she'll get to experience the ultimate in relaxation in the comfort of her own home. Draw a heavenly warm bath and feel the lavender bath salts start to fill the air with relaxation. Light the aromatherapy candle, start the relaxation cd, grab some delightful snacks and settle in to bliss. When she's soaked her blues away, she can rejuvenate her skin with refreshing body lotion and body spray.
Spa Escape Gift Basket
It's not just her hands that fall prey to the cold and elements. Feet need love to. Infact, now is the perfect time to get those little piggies ready for summer. If you're looking for the perfect gift basket for her, your search is over. Begin your spa day with a relaxing spa cd,  Next, indulge your dry wintery skin in pomegranate and passion fruit body butter and let it soak in and feel the skin hydrate.  Use the pedi pumi/brush to slough off the excess dry skin then slip on the moisturizing foot socks and let the healing begin!
Bubbles
Looking for the perfect spa gift basket isn't an easy task. Then adding wine to the mix seems almost futile. I mean, does she like white wine? Red wine? Lavender? Vanilla? You're in luck. Our custom spa gift baskets allows you to not only select her favorite wine, but scent too. Now she'll not only get to revive and reduce her stress with these heavenly moisturizing lotions, gels and soap, but really relax with your choice of a wine or champagne too. What's better than relaxing in a tub of warm bubbles, the soothing scent of pomegranate and passion fruit and indulging in fine wine and chocolates? Not a thing!