There's someone you care about who deserves a gift basket full of treasures. You know the one. This person is unique – you can't go with a standard gift basket, and you wouldn't want to. Customize a gift basket and not only will it go a lot further with them but it will make you feel great to see how much they appreciate your thoughtfulness. How do I create a custom gift basket?
It's easy. Use our 'Design it Yourself' gift basket system and follow these four simple steps:
Step 1: Choose a theme
There are plenty of ways to customize a gift basket for someone, so it's tempting to get distracted and spend too much time browsing the options. Reel yourself in and put first things first—choose a theme. You will see all the
Start by conjuring up a mental picture of the person who will be receiving this gift. What do they like? Sports, gourmet food, or perhaps a bit of the bubbly? Do they like practical items or decorative?
Once you have your thoughts organized around this person's likes and dislikes, it will be easy to pick a gift basket theme. We offer a variety, ranging from coffee and Italian to spa and new baby themes.
Step 2: Pick a container
With the theme chosen, your next step is a quick one. Pick the container you think they'd love! From woven baskets to colorful tins, the container is the foundation for your custom gift.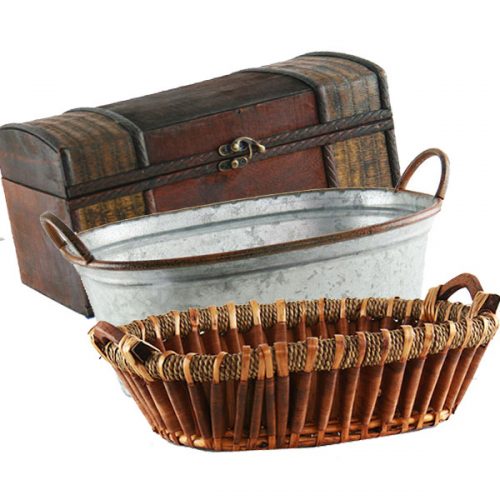 Each container corresponds with a price, so let your budget lead the way. After just one click, you'll head to the next step.
Step 3: Fill your basket with good stuff
Now for the fun part – this is where you can really customize the gift basket to appeal to the recipient. Fill the basket near to bursting. We make it easy by organizing products by category and listing the most popular choices from other shoppers. Gourmet sweets, fuzzy tennis balls, flavorful wine, cute baby toys…there are a plethora of choices in each category that all relate to your original theme and recipient's personality. (Depending on the size of gift basket you choose, you'll be able to pick products from a few different categories.)
Worried about mixing and matching with calamitous results? No need. Our gift basket pros have already put a lot of thought into which products complement each other. It's a near-scientific process where we analyze smells, shapes, sizes, and types of products – it's a tough job, but our team is more than up to the task. Our detailed product research ensures that however you choose to customize the gift basket, it will look full, be beautifully arranged, and flow.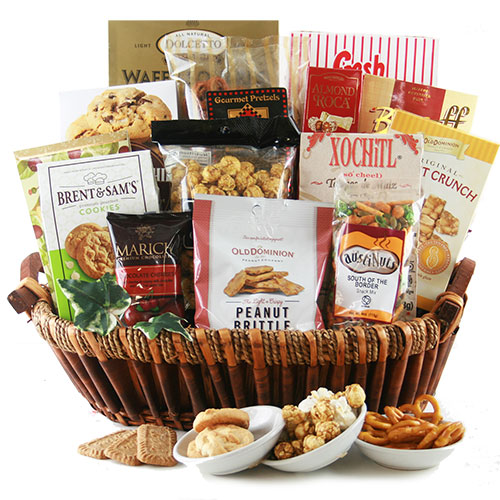 Step 4: Add extra-special somethings
Top off your gift basket with optional add-on items that the recipient will love. These add-ons vary by theme, but are all tailored to fit nicely with the products you've already selected. The price is displayed next to each item, allowing you to add extra-special somethings while still being mindful of your budget. Don't overlook the personalized imprinted ribbon to really WOW them!

Other optional FREE add-ons include a personalized message (you can't send something you've spent this much time creating without a thoughtful message!) and gift wrap to match the occasion.
Design It Yourself Gifts & Baskets specializes in custom gift baskets that make it easy for you to create a special gift to surprise someone with, including all the personalized touches that show you care. Everything we sell is made to order – create a custom gift basket today, and it will be delivered as early as tomorrow.