Maybe the crazy insane heat and humidity that has us dreaming of refreshing Margaritas. While at this point any Margarita would do and we're a few degrees away from sticking our heads directly in the ice box, you must hold out a little longer for these refreshing fruity treats.
Some of these fruity, tasty treasures may require a quick run to the store. But worry not, the ingredients are fairly simple and the recipes pretty darn easy.
Simple, easy, straightforward and definitely a classic: This margarita recipe is a solid crowd-pleaser.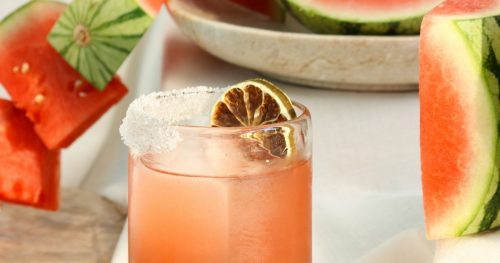 Watermelon is one of the most iconic summer fruits. Go to a picnic spot anywhere and you'll see some brave family trying to either heave or hack into the giant, luscious fruit. Add some cooling basil and you've got a liquid ticket to refreshment town. (Promise, that's the last time we'll use that one.)
Blackberries are a great warm weather drink accompaniment. Add some fresh jalapeño (remember, heat beats heat!) and you've got a richly purple, surprisingly spunky little take on the classic formula.
This one already gets bonus points because it's blended. And while this recipe's for one, you can pretty easily dial it up for the group of ultra-thankful friends you're inviting over to share. Just toss fresh strawberries, pineapple juice, and a bunch of ice in a blender along with your other ingredients, then sit back and relax!
Everyone's adding avocado into their morning smoothies, so why not toss some into your cocktail-hour indulgence?  Coconut milk, fresh jalapeño, and a chile-lime salt rim turn this into a kind of fusion Margarita that you won't want to put down. Besides, aren't avocados are good for you?