Shopping for gifts is all about being thoughtful, which means the more personalized you go, the better…WAY better! It doesn't matter how you customize it, all that matters if that you've picked out something they'll love that is unique to them. From personalized ribbon and monogrammed mugs to monogrammed serving trays and even a customize charcuterie board, there's something for everyone (seriously, everyone—Mom, Dad, your BFF, clients, the list goes on) on your list.
And to top it all off, these custom gifts work well all year long. So whether you're shopping for Christmas, birthdays, welcome home or just a plain thank you gift, we've got you covered. Gifting just got a whole lot easier…and FUN!
Creative/Artist Basket
There's no need to be extremely crafty to enjoy an Adult Coloring Book Basket. On the contrary, this gift basket can bring out the inner artist in any "arts & crafts challenged" person. And if your recipient is on the crafty side, even better. Plus they'll get to enjoy some refreshing, tasty snacks while they color into the night!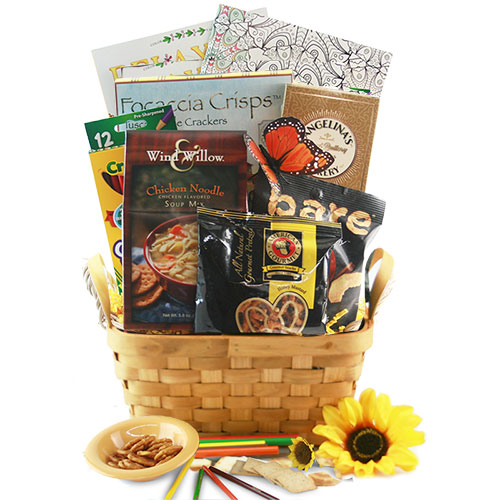 Corporate Thank You Basket
Corporate holiday food gifts don't always have to be sweet, indulgent treats. In fact, a lot of people prefer crunchy and salty snacks or enjoy a mixture of both. What will really make that WOW impression is the ability to add imprinted ribbon, personalized note cards with your logo and given enough time, we can brand mugs, koozies, mousepads and pretty much everything!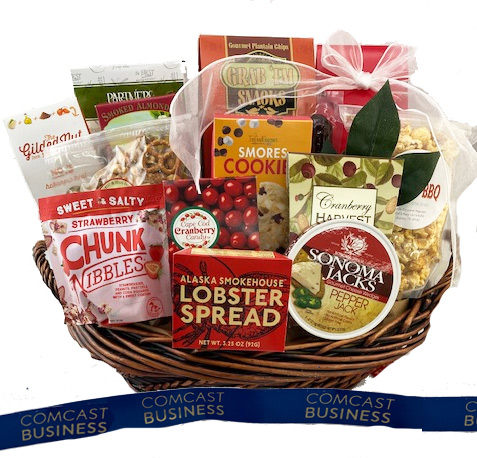 Custom Charcuterie Gift Basket
Go bold with this classy and sophisticated gift box that packs a lot of flavor into one. This is perfect for friends, family and clients that love to entertain. Starting with a bamboo charcuterie board and utensils and ending with a foodie lover collection of artisan crackers, cheeses, nuts, pretzels, chocolates and so much more.  You can even get your logo branded on the charcuterie board to leave a lasting impression for years to come.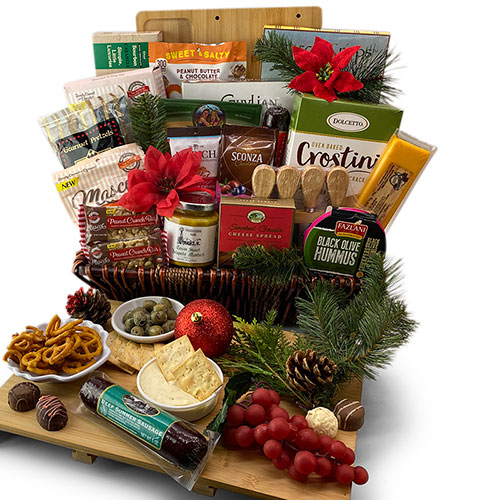 Rock and Roll Baby!
Got an event that requires complete custom designing? Yup, we do that too. Our designers can do anything. Ask Jake and Elwood the Blues Brothers!  This can include company logo items such as coffee mugs, calendars, mouse pads, t-shirts, and pens. You provide us with the items and we'll include them in your corporate baskets – free of charge. Don't have logo items? We can take care of that for you too. Business gifts have never been easier!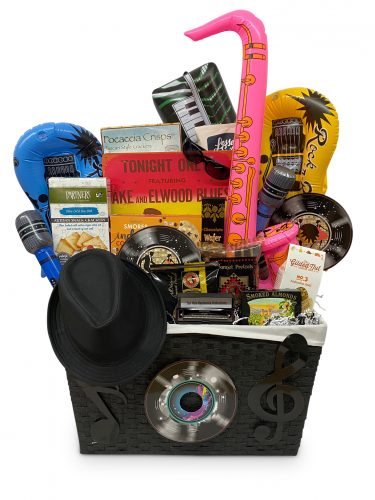 Welcome Home Gift Basket
What makes a welcome home basket so special? Knowing the recipients favorite things and adding those to the gift. Do they have a pool? Pets? Kids?  Realtors already work long, hard hours. Let us do the heavy lifting and design the perfect personalized closing gift!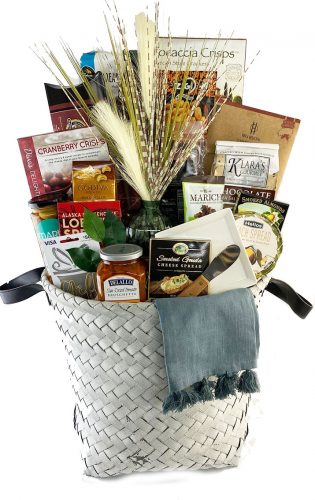 We here at Design It Yourself Gift Baskets believe that creating unique, made-for-the-occasion corporate gift baskets is the key to setting yourself apart from your competitors. Our extensive array of products and ideas will assist in taking your brand to a whole new level.
Customization and imagination are what sets those special, unique gifts apart from the off-the-shelf, everyday gifts. Whether you're looking to impress your customers, "WOW!" perspective clients, or reward your employees, our corporate gift specialists are experts at crafting absolutely amazing gift baskets that are tailored specifically to your needs and budget. And please keep in mind that while we carry an extensive product inventory, if your vision or requirements are such that we need to look beyond our standard product lines, we've got you covered. We routinely shop for, and source, specialty products for corporate clients. This includes tirelessly scouring the web for that perfect box of Italian chocolates or shopping locally for an amazing Texas salsa. Because that's what we do. We ARE custom gift baskets, and our gifts are as diverse as your imagination!